Mastiff Armored Shuttle
Stemming from a requirement for new shuttle in the last 4430's, the Mastiff is meant to be an all purpose cargo and APC rolled into one. In constant productions since it's introduction, it's even been reverse engineered by other groups.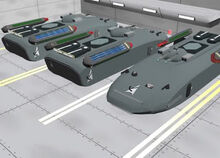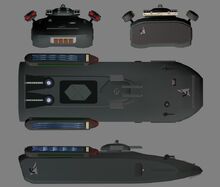 Crew: four (pilot,co-pilot/navigator, flight engineer, gunner/loadmaster)
Capacity:
cargo hold: length, 55 feet; width, 28 feet ); height, 12 feet Rear ramp: length, 12 feet 6 inches
92 passengers or
50 Marine power armor equipped troops(special module) or
74 litter patients with 5 medical crew (a dedicated medical module with 14 biobed, two surgical bays, and two offices is optional) or
6 pallets or
2–3 Jeeps or
2 armored personnel carriers
There
Length: 80ft  ((17.25
Width: 32 ft 11 inches
Height: 18ft 5.5 inches
Powerplant: Conventional m/am microreactor and twin impulse engines
Performance
Maximum speed: .25C
Armaments
two twin barrelled infinite repeaters. One on each corner front. 
Turret two pulsed plasma cannons and two anti-tank missile pods. Two tubes per launcher. 3 missiles in each tube for a total of 12 missiles.