Cassandra is one of the main female protagonists of To the Skies: The Journey of A Thousand Years the first installment of To the Skies.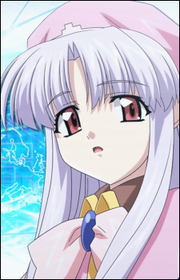 Cassandra was created by Joshua Hina and first appeared in Act 1 of The Journey of a Thousand Years.
Character Information
Age: 15
Species: Human
Gender: Female
Weight: 108 lbs.
Height: 5'3"
Hair Color: Grayish white (Long)
Eye Color: Red
Place of Birth: Athos, Capital of the Region of Desthia
Basic: Description: Miss Cassandra as called by those in the Dragonriders is one of the more gifted members of the Support and Medical Operations Unit. She does not have a dragon however she has skills in healing, marksmanship and information gathering. She does not look like she can hold her own in a flight but she can and will. She has a gun hidden on herself and drives a jeep where she lives out of on missions saving her money for other things despite having a lot of it.
Interests: Cassandra like to help others, mend things, play around with weapons and get into dangerous situations.
Family History: Mithio Cassandra's father works for the Dragonriders and one of their Militia Commanders; her mother is the head of the Support Unit so she has a lot to look up to. Her sister Athena is a Dragonrider in the Region of Desthia.
Education: Cassandra is well educated and as the member of a rich family continues to be taught well. She learns from the best and strives to be the best.
Career History: Cassandra was allowed to enter the Dragonriders Support Group only a few months ago and has not seen much action though the missions she has gone on proved her worth. She is currently assigned as Jess's Support unbeknown to Jess.
Creators Notes
Cassandra is based upon Azmaria Hendrich from Chrono Crusade in likeness.